Contemporary Bathroom Design
In recent years, the bathroom has become more and more important within the home. It acts as a center for relaxation and rejuvenation for men and women alike, while at the same time it holds the potential for hours of bath time fun for the kids.
If you're considering an update of the decor in your bathroom, it's essential to get the right balance between style and practicality. The nice thing about the bathroom is that there's room for a little experimentation. It's not a room that is generally open to off-the-cuff visitors, so you can allow your personality to come through and have a little fun with it.
Interior design has been heading in a much more eco-friendly direction over the last few years, and the bathroom is no exception. For a more natural look in your bathroom, go for light colors  creams, whites, greens, and think about adding plants to bring a little of the outdoors in. Bamboo furniture is really growing in popularity thanks to its quick renewability and eco-friendly production. It's hard-wearing, stylish and fairly inexpensive in comparison with its hardwood counterparts. It's also great in the bathroom because it won't warp or swell in changing temperatures.
If you're hoping to achieve a more elegant look, you might like to stick with white as your base color and bring it to life with the addition of colored bathmats, towels and tiles. There are some gorgeous, traditional-looking baths available and you can really make a feature of them with the right positioning. A quick search online will give you some great ideas for elegant bathroom furniture. A free-standing vanity sink cabinet can really draw the eye, especially if you choose a bold, dark color within a very light room.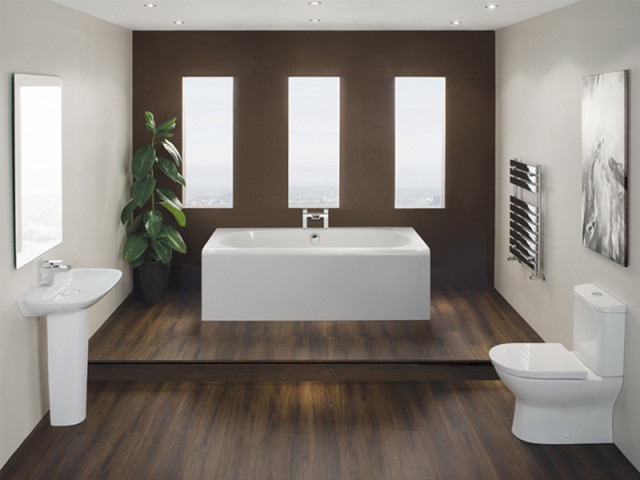 You may, on the other hand, decide to go ultra-modern, with high-gloss units and sleek stone flooring. This will give you the opportunity to choose funky accessories and make features of mirrors and light-fittings for example, or to choose an unexpected bathroom suite in a startling color.
You should be completely happy with your designs before you go ahead. The bathroom is the perfect place to relax after a long day at work, so make sure you can do that with absolute ease.