How to 'retrofy' your kitchen
There was a time when viewing houses with retro out-dated kitchens and bathrooms filled potential buyers with a sense of fear; knowing that an expensive refit would be on the cards could render some potential properties a write off. However, with vintage inspired interior design soaring in popularity, potential home owners are now more likely to welcome the sight of such old-fashioned styling.
If you aren't lucky enough to inherit a 50s or 60s style kitchen, you may want to have a go at 'retrofying' the space yourself. This can be done easily by adopting a few style traits of the time. Firstly, you should try and create an open plan area with fitted kitchen cupboards. Tiles can take a prominent part in achieving the look, with abstract and geometric patterns being a strong trend in this era. With this in mind, look at selections from specialists such as the Kitchen Tiles from Tile Depot and track down kitchen tiles that match your vision. The use of kitsch bubblegum and primary colours is also denotative of this period, so contrast abstract monochrome tiling on the floor with colours on the walls such as blues, reds, pinks and yellows.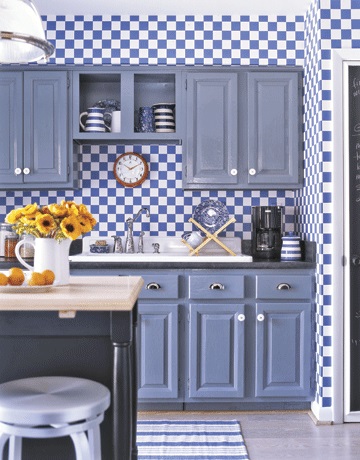 Finally, use your appliances to create the finishing touches. Retro style kettles, toasters and biscuit tins are widely available on the high street and buying a set of old-fashioned metal pans to hang from your ceiling will be a solid culinary as well as decorative investment.