Grohe Rainshower Icon Showerhead
Drenching in rain willingly has always been a lively experience for every individual. While people in their childhood days got their clothes spoilt in slush or caught fever as an after effect, which was a matter of raze to spoil all the fun. A bathroom shower has been a blessing which helped people to get overwhelmed with the feeling of getting drenched. It is a vital asset for a bath design. Bathroom decor looks curtailed without a shower overhead.
Grohe which is a leading manufacturer in bathroom accessories has launched the new Grohe Rainshower Icon Showerhead. This masterpiece has indeed something really elegant and dazzling in its make that will definitely make you look-up to it. This manufacturing comes with a convenience of a hand-held shower, as well, so the pleasure of hand held and overhead shower can be availed with this.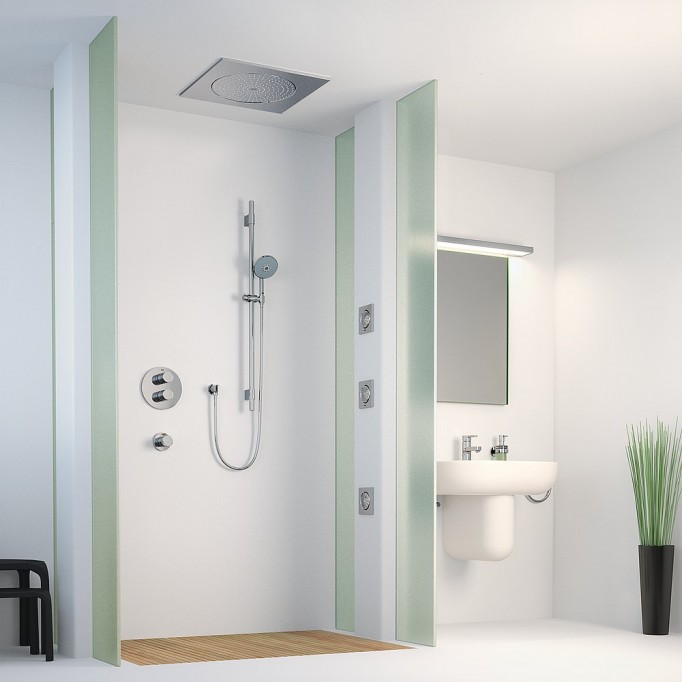 Its style statement describes matching of style uniformly, rare blend of hallo shaped fixture and its mount on a pivoting column facilitates you to position it in a desired direction. The dimensionally 100 mm hand held telephonic shower allows you to wander in the vicinity under the pouring of luxury.
In addition to its beauty, this icon comes with tech end features like thermostatic mixer and diverter. While the thermostatic mixer makes sure you get optimum temperature shower in all weather conditions, the diverter ensures the direction of water flow. Purchase of this bathroom shower can exhibit bath remodeling of your bathroom and turning it into a luxury bathroom indeed. So, enhance the beauty of your bathroom's style and function by this eye catching appealing bathroom icon.
Website : Grohe