Extravagant Staircase by Bonansea Scale
If you are bored of your temporary home interior and wish to have a fresh look that can change the entire ambiance of your interior décor, then why not stumble upon the market and check out some cool options available. These days, markets are swamped with new interior decorating ideas and alternatives that can definitely transform your dull and dreary room interior into a fashionable home sweet home.
Not just, wall colors, flooring, furniture, curtains or upholstery, you can even choose to have a stylish staircase to embellish your home with an absolutely new appearance. If you think that this aspect can really endow you with all what you have been craving for your interiors, then check out this extravagant staircase design by Bonansea Scale. This beautiful architectural element has taken the sector of interior designing to new heights.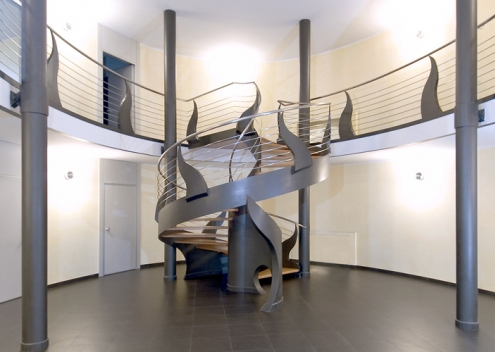 The creativity, stunning sculpture, polished steel with wood and glass accents, finished edges and sleek appearance makes this artistic piece a source of attraction in the interiors. Whether you have umpteen or confined space, this extravagant staircase design can be easily accommodated in your home sweet home.
The design is simply awe inspiring and catches the attention of viewers in the first glance. So, if you choose to have this elegant masterpiece in your home, be prepared to experience the green-eyed guests and make them feel even more envier. Additionally, this staircase can be a worth investment for your interior decor. So, what are you waiting for ?
Visit Bonansea Scale – here