Bathroom Sinks – Carrara Marble Washbasin Pipa by Antonio Lupi
We all appreciate innovation. Whether it is about our life or our home interior, we love to introduce a sense of freshness and novelty in the atmosphere. This is something which has really facilitated new trends to spread all around the world. Just like the new remodeling ideas for converting an ordinary lavatory into a luxury bathroom, which has really gained a lot of admiration.
If you are also looking for some unique bathroom decorating ideas to enjoy that magnificence while bathing, then check out this Carrara Marble washbasin Pipa by Antonio Lupi. The big marble washbasin reveals a bold, beautiful and a masculine look, which can create a center of attraction in your bathroom space. This monolith of marble measures around 72 x 46 x 85 cm and has been brilliantly carved into a stunning success.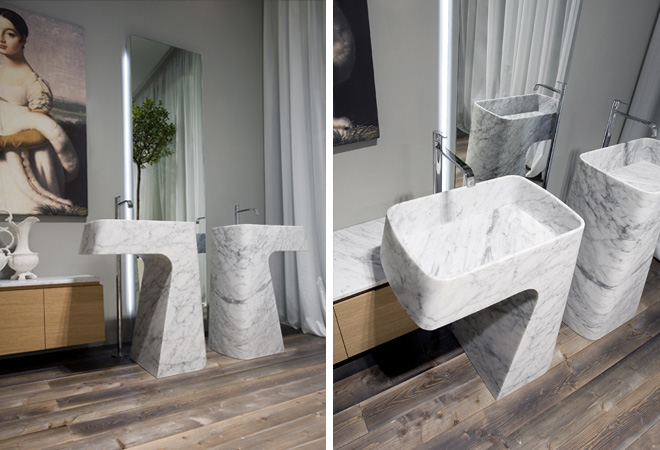 The fluid lines and straight sharp edges of this marble washbasin will enchant you in the first look. Whether you have a contemporary bath design or traditional, this unique choice for your bathroom space will surely add a sense of sophistication. If you have a water source in your exteriors, then also this marble washbasin can rejuvenate your exteriors with an absolutely fresh look.
The designer Antonio Lupi has designed this washbasin with a very creative eye, keeping in mind every minute aspect. If you also wish to add a bold masculine look to your space, then go for Carrara Marble Wasbasin Pipa.